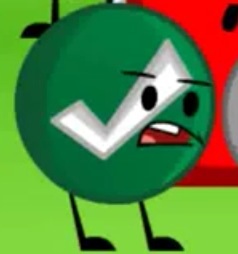 Green Ball

Voiced by: Kalasi97

Gender

Male

Team

TBA

Episode Eliminated

TBA

Allies

Red Circle, Grey Hexagon, Round Square, Gold Square, Bottle Cap, Orange Pentagon, Tokey, Brown Rectangle, Indigo Triangle, Strawberry, Green Pentagon, Cracker, Blue Circle, Orange Rectangle (possibly), Grey Diamond

Enemies

Dollar, 3d Cube, Brown Oval, Yellow Triangle (possibly)

Age

10

Color

Green With Grey Tick

Date of birth

February 7, 2007
Description/Personality
Edit
Green Ball is contestant on Shape Battle. He is one of the nicest ones and a very supportive character. Due to this every elimination he attend he either received the 1st, 2nd or 3rd most votes. In Episode 2, he won the prize with 24 likes which was a remote. Green Ball is not really good at challenges and is angry when things don't go his way at times. and he hate dollar.
This Is The First Contestant That Win The Prize.
Green Ball Received The Most Likes Ever.
Poll