Pizza



Gender

Male

Allies

Strawberry, Gold Square, Round Square, Brown Rectangle, Grey Hexagon, Green Ball, Blue Circle, Tokey, Indigo Triangle, Plum, Blueberry, Orange Pentagon

Enemies

Age

8

Rank

TBA

Voiced by

HurricanehunterjacksonHHJ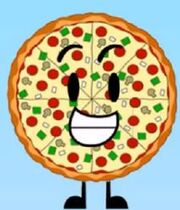 This is Pizza hope you are introduced. Pizza is helpful but armless he is kind and is friends with most people.
Description/Personality
Edit
Pizza is in Bottle Cap's team and is the only contestant with multi-colors. he doesn't talk very much and is afraid of Bottle Cap. So far, Pizza does not seemed to be really liked by fans as receives 2nd/3rd place in dislikes in the first elimination. In episode 2, he was in the bottom 3, but he got less disliked because she got in the bottom 5 in episode 3a.
Though overall Pizza is quite lazy but a considerate, kind and modest player that helps his team even with limbless body parts. She is the only armless contestant on Bottle Cap's team.
he was a female in the first 3.5 episodes but turned into a male in 4, similarly to Lightbulb in Inanimate Insanity.