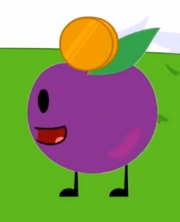 Plum is currently cut so she may not be ranked in the show Shape BattLe or even make future appearances.

Plum

Plum is a contestant who wins all the time she is voiced by PDDRMAnimationPro

Gender

Female

Allies

Round Square, Cracker, Blueberry/Yoyleberry, Strawberry, Pizza, Green Ball, Gold Square, Tokey, Indigo Triangle, Red Circle, Brown Rectangle, Orange Pentagon, Bottle Cap, Green Pentagon, Round Square

Enemies

Age

10

Rank

TBA

Voiced by

PDDRMAnimationPro

Date of Birth

December 16, 2006
Description/Personality
Edit
Plum is the best participant in the entire history of Shape Battle. She was never meant for elimination.
Plum has received a total of 0 votes and is the only contestant to do so and due to this she might merge if she keeps on winning. Plum has almost never talked and seemed quiet, patient and calm though in her promo pic it shows her expressing an unhappy face. (this possibly had something to do with her quiet personality).
Plum was not seen in episode 3A and 3B possibly she got cut or missing.